Keynote Speech Title
Micro and Nano Manufacturing for Sensing and Energy Applications


Abstract
Micro and nano manufacturing is part of the advanced manufacturing processes that have attracted great interests in recent years. Fundamental investigations on the design, synthesis, assembly and integration of materials and nanostructures have led to potential applications in sensors, energy and medicine. Leveraging from MEMS technologies, we have been working on the micro and nano manufacturing for sensors and energy generation/storage applications, including: (1) synthesis, assembly and integration of 1D and 2D nanostructures for pressure and gas sensing applications; (2) 1D piezoelectric nanofibers as nanogenerators; (3) self-aligned 1D nanostructures for energy storage applications; and (4) 3D-printed wireless sensor. I will introduce these topic in the presentation.


Biographical Sketch
Professor Liwei Lin received PhD degree from the University of California, Berkeley, in 1993. He was an Associate Professor in the Institute of Applied Mechanics, National Taiwan University, Taiwan (1994~1996) and an Assistant Professor in Mechanical Engineering Department, University of Michigan (1996~1999). He joined the University of California at Berkeley in 1999 and is now Professor at the Mechanical Engineering Department and Co-Director at Berkeley Sensor and Actuator Center (BSAC), an NSF/Industry/University research cooperative center. His research interests are in design, modeling and fabrication of micro/nano structures, sensors and actuators as well as mechanical issues in micro/nano systems including heat transfer, solid/fluid mechanics and dynamics. Dr. Lin is the recipient of the 1998 NSF CAREER Award for research in MEMS Packaging and the 1999 ASME Journal of Heat Transfer best paper award for his work on micro scale bubble formation. He led the effort to establish the MEMS division in ASME and served as the founding Chairman of the Executive Committee from 2004~2005. He is an ASME Fellow and has 20 issued US patents in the area of MEMS. He was the general co-chair of the 24th international conference on Micro Electro Mechanical Systems at Cancun, Mexico. Currently, he serves as a subject editor for the IEEE/ASME Journal of Microelectromechanical Systems and the North and South America Editor of Sensors and Actuators –A Physical.
Keynote Speech Title
Micro Manufacturing of Microfluidic, Optical and Mechatronic Devices


Abstract
Micro technology deals with the fabrication of structures in the length scale between 0.1 and 1000 μm and can be considered as an important enabler for micro systems such as miniaturized sensors. Recent advances in micro manufacturing will be demonstrated by examples of microfluidic, optical and mechatronic devices. In the area of microfluidics, the fabrication of centrifugal microfluidics for automated analytics and diagnostics via injection compression molding is addressed. Manufacturing of optical components via micro injection molding and precision assembly of those components will be presented with respect to optical sensors. Molded interconnect devices serve as an example for the manufacturing of mechatronic devices. Apart from manufacturing technologies, the application of simulation methods for the assessment of manufacturability and reliability of the devices will be discussed.


Biographical Sketch
Prof. Dr.-Ing. André Zimmermann studied chemistry and crystallography at Julius-Maximilians-Universität Würzburg as well as materials science with specialization in mechanical engineering at Technische Universität Darmstadt. After several stays in the USA at the National Institute of Standards and Technology (NIST, Gaithersburg, Maryland) and the University of Washington (Seattle, Washington) he received his PhD in 1999 at Technische Universität Darmstadt with a dissertation on "Residual Stresses, Micro Cracking and Failure in Ceramics and Composites". In 1999, he joined the Max-Planck-Institute for Metals Research in Stuttgart as group leader, where he concentrated his research amongst other topics on the reliability of materials and the assembly and interconnection technology of actuators for adaptronics.
From 2002 to 2014, he held different positions within the corporate research and development of Robert Bosch GmbH in Waiblingen in the field of electronic assembly and interconnection technology, simulation, strategy and innovation management. A focus of his tasks at Robert Bosch GmbH was the position as senior manager for electronic packaging.
Since January 2015, he is professor for micro technology at the Institute for Micro Integration (IFM) of the University of Stuttgart. Simultaneously, he is the head of the Institute for Micro Assembly Technology at Hahn-Schickard in Stuttgart. Hahn-Schickard is a non-profit organization for applied research on micro systems. The research of André Zimmermann focuses on the following areas:
Micro Manufacturing
Assembly and Interconnection Technology of Miniaturized Devices
Reliability of Miniaturized Devices
Prof. Hisayuki Aoyama
Department of Mechanical and Intelligent Systems Engineering
University of Electro-Communications
Tokyo, Japan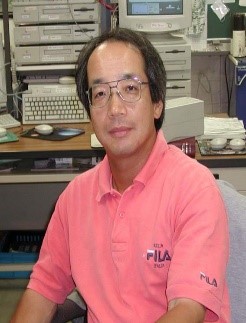 Keynote Speech Title
Manufacturing for IoT Generation and Desktop Micro Robots Factory


Abstract
For these decades, manufacturing technologies have been improved so much and the communication technologies such as internet have dramatically changed the style of production as well as human life. However some advanced industrial countries are now facing the problem of aging society and population decline. Thus the balance of excellent production efficiency with low cost and highly customized product based on the point of sales are an essential part of the production strategies for the next generation. It is well-known as Industry 4.0, "Advanced Manufacturing with Cyber Physical System". Some talks about the story of Industrial 4.0 are given in the first part following by the second topics of Desktop Micro Robot Factory that were developed at UEC, Tokyo. In this talk, an unique micro production system which is organized by several miniature robots with accurate versatility in microscopic range is discussed. Our small robot, size of which is approximately 1 cubic inch, is composed of piezo elements for the source of micro locomotion and electromagnets for clamping on the surface. This simple mechanism can provide good accurate mobility and design modularity. In the several experiments, it is demonstrated that they can provide unique microscopic machining and manipulating performances. Also several small robots can collaborate in making micro through-holes on the sample plate and pattern control of thin film in the deposition process. These experimental results indicate the potential capabilities of micro robots to the promising industrial applications with much of cost saving benefit.


Biographical Sketch
Professor Hisayuki Aoyama was born in 1958 in Japan. He got his bachelor degree with Mechanical Engineering for Production from Tokyo Institute of Technology, Tokyo, Japan in 1981. He got his master degree with Precision Machinery in 1983 and doctor degree with Precision Engineering in 1988 from Tokyo Inst. of Tech. He worked at Research Laboratory of Precision Machinery and Electronics, Tokyo Inst. of Tech. from 1983 to 1988. He became an Associate Professor, Dept. of Precision Engineering, Shizuoka University. He was a visiting researcher at College of Manufacturing, Cranfield Institute of Technology, U.K. in 1989-1990 and Dept. of E.C.E, North Carolina State University, U.S.A. in 1996. In 1997, he was an Associate Professor, Dept. of Mechanical Engineering and Intelligent Systems, University of Electro-Communications. In 2002, he became a Professor, also the Director of Micro Robotics & Mechatronics Group and Director of Global Alliance Laboratory Project. He is interested in micro/precision engineering, micro metrology as well as its industrial and biomedical applications.